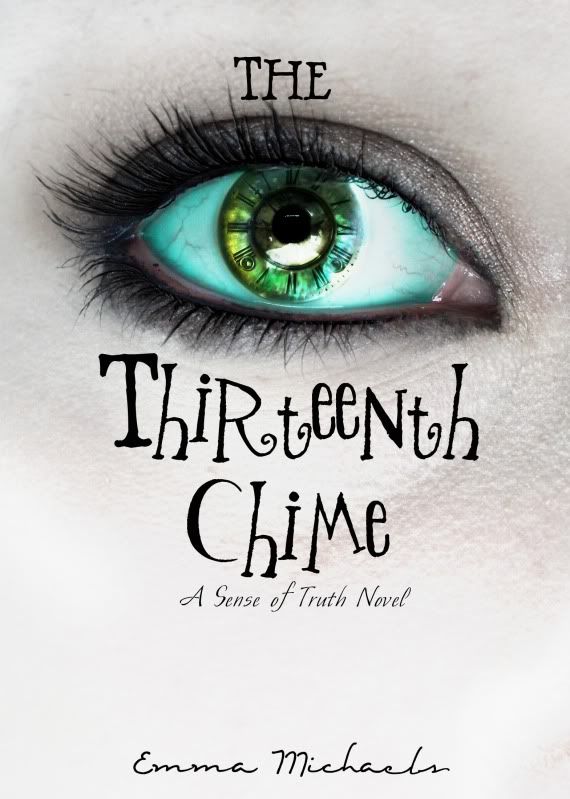 Emma Michaels was born and raised in Los Angeles, California, until she moved at eighteen to Washington State. Suddenly, the world was a new place filled with tall green trees that reached further for the sky with every moment, making her want to do the same. Ever since, she has tried to make her life something new and different from what it was before, pursuing her future career, setting high goals and reaching for them with every moment.
With her Debut novel, The Thirteenth Chime being released August 13th 2010 and future releases planned Emma Michaels aspires to one day make it to the top ten of the New York Times Best Sellers List. With her fianc矇 at her side and her small white Chihuahua, Hope, she writes, reads, reviews and tries to live everyday to its fullest, whether in the pages of a good book or reaching out to others.
Emma Michaels, author of The Thirteenth Chime, which comes out on August 13, 2010, has graciously agreed to answer a few questions for us. Since I haven't read the book yet, none of the questions relate directly to it; most of them are about her writing style and influences. Enjoy!
Hopefully I can get a copy of The Thirteenth Chime soon so that I can post a review here :)
Cade Crowley: First of all, thank you so much for doing this! I really appreciate it when anyone volunteers to do something for my blog. Forgive me if my questions aren't very original or insightful. This is my first interview, so I have no clue what I'm doing.
What made you decide to write paranormal?
Emma Michaels: Actually, I knew right off that I wanted it to be a YA novel, but it became paranormal as the book progressed. So I hope that both YA and paranormal book lovers will enjoy the reading the book as much as I enjoyed writing it.
CC: Was there any one event that made you realize that you wanted to be an author?
EM: Yes. I was ill when I was younger and I was given a book by
Tamora Pierce
to read that really helped me deal with that
time of my life
. Shortly afterward, I found out that she would be doing a book signing at a bookstore near to where I lived. I went with a family member and not only did I get my book signed, but I was able to speak to her. The experience was wonderful and I knew after reading the book and meeting her that I definitely wanted to become a YA author one day.
CC: Did anyone in particular influence your decision to become a writer?
EM: Other than Tamora Pierce, my father has been a great support in my life in deciding to become a writer. I was also very fortunate with my fiance, who has support my decision to write my debut novel since the beginning and been my driving force pushing me forward.
CC: Do you outline your books, or are you a pantser (someone who writes without an outline, for those of you who haven't heard the term)?
EM: I do create outlines for my novels, but I only use them as a guide to keep on track. Once I begin writing, I just let the story itself flow and go wherever it wants to go.
CC: What is your favorite part of writing?
EM: My favorite part is when I sit down to write and I don't think about the words - I just feel them and type as fast as I can to keep up with the story. I feel that letting the story tell itself allows the characters come alive to anyone who reads it in a unique way.
CC: Do you enjoy writing light and humorous scenes more than emotional ones, or vice versa?
EM: I enjoy both equally, but I think the emotional ones are the most difficult to write at times. I immerse myself in music to help me with the atmosphere of the moment, but I'm right there with the characters in what they are feeling and experiencing.
CC: Are any of your characters based on people you know in real life?
EM: No, I try to let the characters develop on their own. I've looked back through the book and wondered if maybe I based a character off of anyone accidentally. But all of my characters are their own individuality and I am very glad to have gotten to share their story with all potential readers.
CC: Does being a blogger affect your novel writing?
EM: Not the writing itself, no, but it does affect my outreach to my readers. To me, writing a book is not just about the writing or being published, it is about writing a book that I hope others will enjoy reading as much as I enjoyed writing it. It allows me to keep in touch with potential fans and to touch their lives the way that they have touched mine. Everyone has been really wonderful and supportive and I hope to continue blogging and writing for many years.
Thank you so much for the interview and thank you to everyone reading!! Your support means so much to me! If you would like to hear more of get updates on The Thirteenth Chime feel free to stop by my blog.
http://EmmaMichaels.Blogspot.com
Emma was a pleasure to interview, and I hope you guys go check out her website and get The Thirteenth Chime on Friday the 13th of August, which is the greatest release date ever!