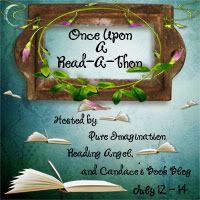 I'll be participating in this great read-a-thon Mon.-Wed., and so my posts will be slightly irregular. My normal daily posts will still go up every morning, but I'll also be posting on my read-a-thon progress and reviews for any non-ARCs I read. (Reviews for ARCs will go up the day those books are published.)
Whenever I finish an ARC, I'll make a brief post about it, though it won't be a full-fledged review, describing my impressions and some highlights. Just a few paragraphs the blurb, probably.
Since the read-a-thon is only three days long and I probably won't be able to read nonstop, I'm only going to list four books before hand. If my mood changes, I can't get into one of them, or I get something in the mail that I want to read first, my choices will shift. What can I say, I'm indecisive.
1.
Dracula In Love by Karen Essex -
GoodReads
-
B&N

In this wonderfully transporting novel, award-winning author Karen Essex turns a timeless classic inside out, spinning a haunting, erotic, and suspenseful story of eternal love and possession.

From the shadowy banks of the river Thames to the wild and windswept Yorkshire coast, Dracula's eternal muse, Mina Murray, vividly recounts the intimate details of what really transpired between her and the Count—the joys and terrors of a passionate affair that has linked them through the centuries, and her rebellion against her own frightening preternatural powers.

Mina's version of this gothic vampire tale is a visceral journey into Victorian England's dimly lit bedrooms, mist-filled cemeteries, and asylum chambers, revealing the dark secrets and mysteries locked within. Time falls away as she is swept into a mythical journey far beyond mortal comprehension, where she must finally make the decision she has been avoiding for almost a millennium.

Bram Stoker's classic novel offered one side of the story, in which Mina had no past and bore no responsibility for the unfolding events. Now, for the first time, the truth of Mina's personal voyage, and of vampirism itself, is revealed. What this flesh and blood woman has to say is more sensual, more devious, and more enthralling than the Victorians could have expressed or perhaps even have imagined.
2.
White Cat by Holly Black
-
GoodReads
-
B&N
Cassel comes from a family of curse workers—people who have the power to change your emotions, your memories, your luck, by the slightest touch of their hands. And since curse work is illegal, they're all criminals. Many become mobsters and con artists. But not Cassel. He hasn't got magic, so he's an outsider, the straight kid in a crooked family. You just have to ignore one small detail—he killed his best friend, Lila, three years ago.

Cassel has carefully built up a façade of normalcy, blending into the crowd. But his façade starts to crumble when he finds himself sleepwalking, propelled into the night by terrifying dreams about a white cat that wants to tell him something. He's noticing other disturbing things too, including the strange behavior of his two brothers. They are keeping secrets from him. As Cassel begins to suspect he's part of a huge con game, he must unravel his past and his memories. To find out the truth, Cassel will have to out-con the conmen.
3.
Insatiable by Meg Cabot -
GoodReads
-
B&N
Sick of hearing about vampires? So is Meena Harper.
But her bosses are making her write about them anyway, even though Meena doesn't believe in them.

Not that Meena isn't familiar with the supernatural. See, Meena Harper knows how you're going to die. (Not that you're going to believe her. No one ever does.)

But not even Meena's precognition can prepare her for what happens when she meets—then makes the mistake of falling in love with—Lucien Antonescu, a modern-day prince with a bit of a dark side. It's a dark side a lot of people, like an ancient society of vampire hunters, would prefer to see him dead for.
The problem is, Lucien's already dead. Maybe that's why he's the first guy Meena's ever met whom she could see herself having a future with. See, while Meena's always been able to see everyone else's future, she's never been able look into her own.

And while Lucien seems like everything Meena has ever dreamed of in a boyfriend, he might turn out to be more like a nightmare.

Now might be a good time for Meena to start learning to predict her own future…

If she even has one.
4.
Spells by Aprilynne Pike -
GoodReads
-
B&N
Six months have passed since Laurel saved the gateway to the faerie realm of Avalon. Now she must spend her summer there, honing her skills as a Fall faerie. But her human family and friends are still in mortal danger--and the gateway to Avalon is more compromised than ever.

When it comes time to protect those she loves, will she depend on David, her human boyfriend, for help? Or will she turn to Tamani, the electrifying faerie with whom her connection is undeniable?