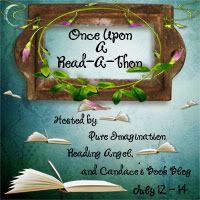 On the first day of Read-A-Thon I shall be doing the following:
Reading my book selections, which you can find here.
Posting reviews/previews of the books I'm reading.
Participating in Read-A-Thon related activities.
Browsing through participating blogs.
Watching Sunday's episodes of True Blood and The Gates.
I think that this, eating, sleeping, and taking care of my new piercings is all that I'll have time to do, but if anyone has suggestions for reading/blogging stuff, I'm always open.
Just to reiterate about ARCs: I will not be posting full on reviews until we get closer to release dates, but I will post a few teasers/mini-reviews/etc., so be on the lookout for those. Hopefully I can finish all four books that I have lined up, but some of them look kind of long, so I probably won't be able to. And I don't know if I have the willpower to hold out on Nightshade, which just came in the mail and sounds really good. We can always hope, though.
If you're participating in the Read-A-Thon, then leave a link and I'll be sure to drop by and comment on your posts :D Happy reading!
First up:
Cassel comes from a family of curse workers—people who have the power to change your emotions, your memories, your luck, by the slightest touch of their hands. And since curse work is illegal, they're all criminals. Many become mobsters and con artists. But not Cassel. He hasn't got magic, so he's an outsider, the straight kid in a crooked family. You just have to ignore one small detail—he killed his best friend, Lila, three years ago.

Cassel has carefully built up a façade of normalcy, blending into the crowd. But his façade starts to crumble when he finds himself sleepwalking, propelled into the night by terrifying dreams about a white cat that wants to tell him something. He's noticing other disturbing things too, including the strange behavior of his two brothers. They are keeping secrets from him. As Cassel begins to suspect he's part of a huge con game, he must unravel his past and his memories. To find out the truth, Cassel will have to out-con the conmen.
I'd love to know if anyone else has read this. I'm sure a lot of you have, since it seems to be quite popular. If you've read it, what were your thoughts? Good? Bad? Meh? I want to know!
UPDATES:
White Cat by Holly Black
Started @ 3:02 AM. Will read one chapter and then go to bed.
Halfway point @ about 5:00 PM.
Finished @ 8:11 PM. Expect a review within the next few hours, as well as another question answered for the mini-challenges.
Review posted here.
Spells by Aprilynne Pike
Will start as soon as I write up a review of White Cat and do another mini-challenge.
Started @ 10:49 PM. Hoping to get a few chapters in before going to bed.


Answered the question for
I Just Wanna Sit Here and Read's Mini-Challenge
.
White Cat by Holly Black, Chapter 1:

"Kick Drum Heart" by The Avett Brothers

Cassel has sleepwalked to the top of the roof and is scared about his predicament but still finds the time to be sarcastic. "Kick Drum Heart" has a fast beat and almost frantic singing that represent this chapter really well, IMO.
Answered the question for
Book Crazy's Mini-Challenge
.
Corny from Holly Black's Modern Faerie Tales series fits perfectly with Third Eye Blind's song "Jumper," especially at the beginning of Ironside.
Answered the questions for
The Eager Readers' Mini-Challenge
.
Other two answers to come, as soon as I get more of White Cat read.
Today's mini-challenges are officially done, and
White Cat
is finished. Gotta do a few chores, then off to read
Spells
. Wish me luck, and look for a few more updates before I sign off for the night!