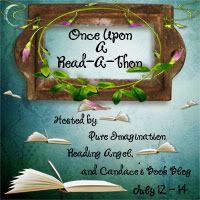 On the second day of Read-A-Thon I shall be doing the following:
Reading my book selections, which you can find here.
Posting reviews/previews of the books I'm reading.
Participating in Read-A-Thon related activities.
Browsing through participating blogs.
Watching Sunday's episode of The Gates (hopefully).
Pretty much the same things I did on Monday.
I had a lot of fun on the first day, and if that was any indication, the second will be just as good. I'm hoping to get in more comments on other people's blogs today, since yesterday I almost completely neglected this most sacred duty of bloggerdom. Oops.
After browsing through a few other bloggers' lists for the Read-A-Thon, I have come to the conclusion that because I'm only reading full-length novels, I am an awful underachiever and must be sacrificed to the god of short stories and novelas. The only problem is that I
hate
most short stories. Dunno why, I just do. So 300-400 page books for me, and I'll just have to look less awesome than the rest of you :'(
Today's read:
Six months have passed since Laurel saved the gateway to the faerie realm of Avalon. Now she must spend her summer there, honing her skills as a Fall faerie. But her human family and friends are still in mortal danger--and the gateway to Avalon is more compromised than ever.

When it comes time to protect those she loves, will she depend on David, her human boyfriend, for help? Or will she turn to Tamani, the electrifying faerie with whom her connection is undeniable?
If anyone else has read this book or the first in the series,
Wings
, then what were your thoughts? Are either on your lists? Comments are always appreciated, and I
WILL
comment back--in fact, you people who comment on my blog are often the only ones whose blogs
I
remember to comment on xD Share the comment love, and leave me a link to your post, too!
UPDATES:
Spells by Aprilynne Pike
Answered the questions for
Confessions of a Bookaholic's Mini-Challenge
.
For the first question: When a stubborn male lead is forced to admit that he has feelings and weaknesses just like anyone else, and his love interest is there to support him.

Second question: Rather than just name one book, I'm going to use a series--the Mortal Instruments series by Cassandra Clare. These books are so amazing that I feel like I'm part of the story while I'm reading them, and I can't help but get emotional when something happens!
Lauren's Crammed Bookshelf's Mini-Challenge
was to link to a review you wrote for Once Upon A Read-A-Thon. I linked to my review of
White Cat
. Go check out the other reviews posted and leave lots of comment love!
Answered the question for
A Blog About Nothing's Mini-Challenge
.
Officially done with today's mini-challenges, much earlier than yesterday.