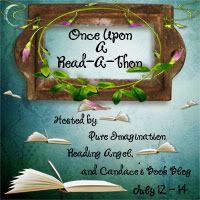 If you still haven't decided on your books for the upcoming read-a-thon, then here's a list of recommendations to get you started. These are all either short or easy reads, and hard to put down, to help you finish as many books as possible, and hopefully blog about them, too.
(Title links lead to GoodReads page.)
1.
Shiver
by Maggie Stiefvater - 392 Pages
For years, Grace has watched the wolves in the woods behind her house. One yellow-eyed wolf—her wolf—is a chilling presence she can't seem to live without. Meanwhile, Sam has lived two lives: In winter, the frozen woods, the protection of the pack, and the silent company of a fearless girl. In summer, a few precious months of being human ... until the cold makes him shift back again.

Now, Grace meets a yellow-eyed boy whose familiarity takes her breath away. It's her wolf. It has to be. But as winter nears, Sam must fight to stay human--or risk losing himself, and Grace, forever.
My Review
2.
13 to Life
by Shannon Delany - 308 Pages
Something strange is stalking the small town of Junction…

When junior Jess Gillmansen gets called out of class by Guidance, she can only presume it's for one of two reasons. Either they've finally figured out who wrote the scathing anti-jock editorial in the school newspaper or they're hosting yet another intervention for her about her mom. Although far from expecting it, she's relieved to discover Guidance just wants her to show a new student around—but he comes with issues of his own including a police escort.

The newest member of Junction High, Pietr Rusakova has secrets to hide--secrets that will bring big trouble to the small town of Junction—secrets including dramatic changes he's undergoing that will surely end his life early.
My Review
3.
Something From the Nightside
by Simon R. Green - 230 Pages
John Taylor is not a private detective per se, but he has a knack for finding lost things. That's why he's been hired to descend into the Nightside, an otherworldly realm in the center of London where fantasy and reality share renting space and the sun never shines.

For John Taylor, there's no place like home...






4.
Moon Called
by Patricia Briggs - 304 Pages
Werewolves can be dangerous if you get in their way, but they'll leave you alone if you are careful. They are very good at hiding their natures from the human population, but I'm not human. I know them when I meet them, and they know me, too.

Mercy Thompson's sexy next-door neighbor is a werewolf.

She's tinkering with a VW bus at her mechanic shop that happens to belong to a vampire.

But then, Mercy Thompson is not exactly normal herself ... and her connection to the world of things that go bump in the night is about to get her into a whole lot of trouble.
5.
City of Bones
by Cassandra Clare - 485 Pages
When fifteen-year-old Clary Fray heads out to the Pandemonium Club in New York City, she hardly expects to witness a murder - much less a murder committed by three teenagers covered with strange tattoos and brandishing bizarre weapons. Then the body disappears into thin air. It's hard to call the police when the murderers are invisible to everyone else and when there is nothing - not even a smear of blood - to show that a boy has died. Or was he a boy?

This is Clary's first meeting with the Shadowhunters, warriors dedicated to ridding the earth of demons. It's also her first encounter with Jace, a Shadowhunter who looks a little like an angel and acts a lot like a jerk. Within twenty-four hours Clary is pulled into Jace's world with a vengeance, when her mother disappears and Clary herself is attacked by a demon. But why would demons be interested in ordinary mundanes like Clary and her mother? And how did Clary suddenly get the Sight? The Shadowhunters would like to know....

Exotic and gritty, exhilarating and utterly gripping, Cassandra Clare's ferociously entertaining fantasy takes readers on a wild ride that they will never want to end.
I know this one's long, but it's a quick read because you won't be able to put it down. I'm thinking about re-reading it soon so I can put up a review :D Hm. Maybe I could re-read and review the entire series in the week before
Clockwork Angel
(the first in a prequel series) comes out.
Well, that's it for my recommendations. If you need anymore, just look at the reviews I've done for this blog, or check out some of the other blogs participating. You can get a list
here
. Just scroll to the bottom and find Mr. Linky.