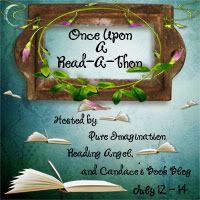 Well, Once Upon A Read-A-Thon really went by quickly. I had a lot of fun reading with you guys and entering the mini-challenges, which were very creative. It was awesome to interact with other bloggers for something other than commenting, which I forget to do way too often.
I didn't actually get much reading done (only 1 1/2 books), but it was still a great experience, and I'd love to do it again as soon as possible.
So, adios to the read-a-thon, and back to normal blogging for me. It's almost like getting home from a vacation; you miss the vacation, but it's nice to get back to your routine. At least, that's how I feel about it.
I hope that everyone had a good time, and won some awesome books!